Abstract
An overview of new features in the latest release.
The latest product news and updates to Moosend.
Generative AI-enhanced text
With the power of AI-driven text suggestions, you can now enhance your email marketing campaigns by generating ready-to-use texts for your campaign subject line, preview text, and in your text items, also in landing pages and subscription forms.
You can generate the text based on keywords you enter, and you can specify the purpose of your text by choosing from the built-in options.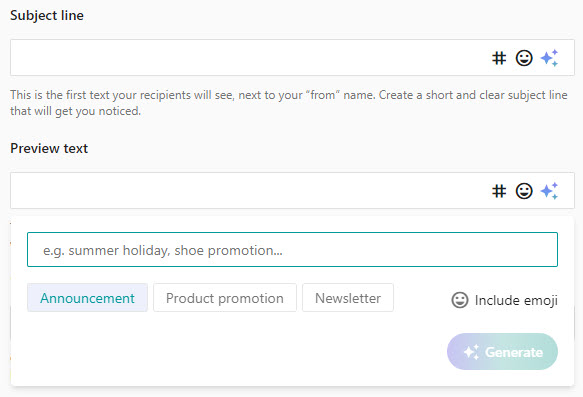 Audience discovery
You can use audience discovery to find, organize, and target different groups of customers based on their specific interests, buying intent, and where they are in the sales funnel. These insights can help you to improve the relevancy of your campaigns.
For example, you can:
Create targeted campaigns to increase conversions within a specific category

Better monitor your products' popularity

Identify new profitable opportunities

Increase brand penetration

Target buyers loyal to your webshop with new product launches

Cross-sell or upsell to another category or within a specific category

Swap to an alternative brand within a category
With audience discovery enabled, this information is applied as colored tags on each of your email list members, allowing you to make advanced filtering using these tags as segmentation criteria.
You can create custom segments based on audience discovery tags and use this information to help manage your audience.

Audience discovery automations
We've extended audience discovery with the ability to create premade segments and campaigns, which helps you provide more personalized content to customers with high purchase intent with minimal effort. For further information, see Understanding audience discovery automations.
Updated navigation
We've simplified and updated the header, and this means that most of the settings which used to be under your account icon

you'll now find under More in the menu bar.

Moosend user documentation
We've launched a new user documentation site for Moosend after migrating the Moosend help articles from Zendesk to Paligo, the documentation team's authoring tool. We've chosen the new site's theme and functionality to ensure that it not only delivers the information you need but also strikes a balance between the Zendesk user experience and the Sitecore style.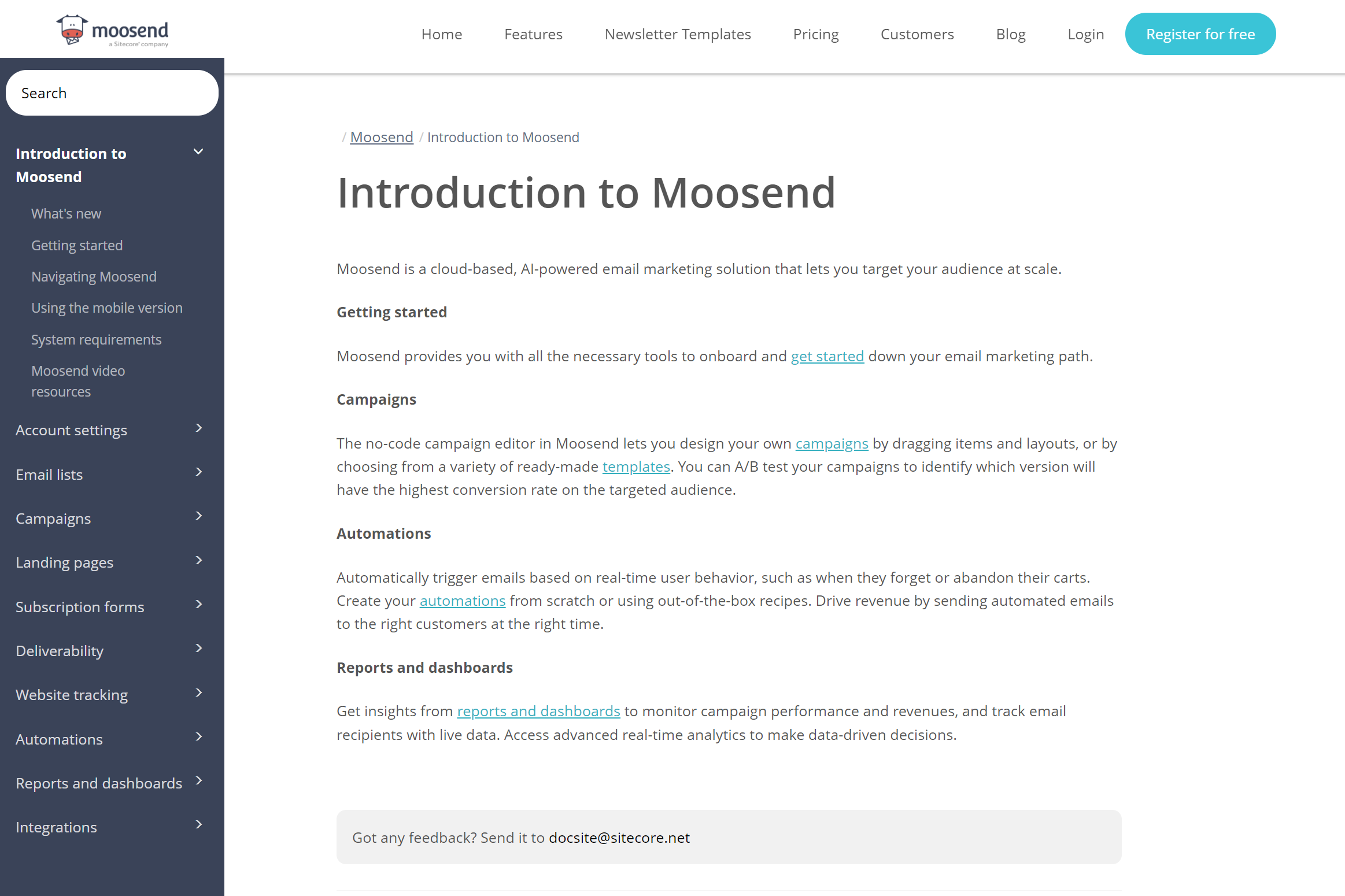 Text editor improvements
We've moved the text editing options from the right pane of the editor into a toolbox that now appears at the top of the text item. This change makes it easier and quicker to access commonly used formatting options. You will see this change when you edit a text item, for example, in a campaign or when you add a link.

Conditional visibility improvements

We've made user interface and functional improvements to the conditional visibility setting, which lets you send targeted content to recipients that meet specific conditions. You can now add up to 10 conditions per layout and choose whether to hide or show the content based on those conditions. By using custom fields in the conditions, you can send personalized campaigns to your recipients based on their age, location, or any other relevant data.

Mobile version

Moosend now features a mobile-friendly design, optimized to improve the user experience on mobile devices. You can access all main Moosend features, such as email lists, campaigns, growth tools, and reports, via a mobile web browser. You can also manage your account settings, send campaigns, publish landing pages and forms, view your automations and dashboards, all on the go. You can switch from your desktop to your mobile device, allowing you to resume your work exactly where you left off.
Integration with Sitecore Content Hub DAM - The integration with Sitecore's Digital Asset Management system enables you to use your Content Hub images in your campaigns and your campaign templates.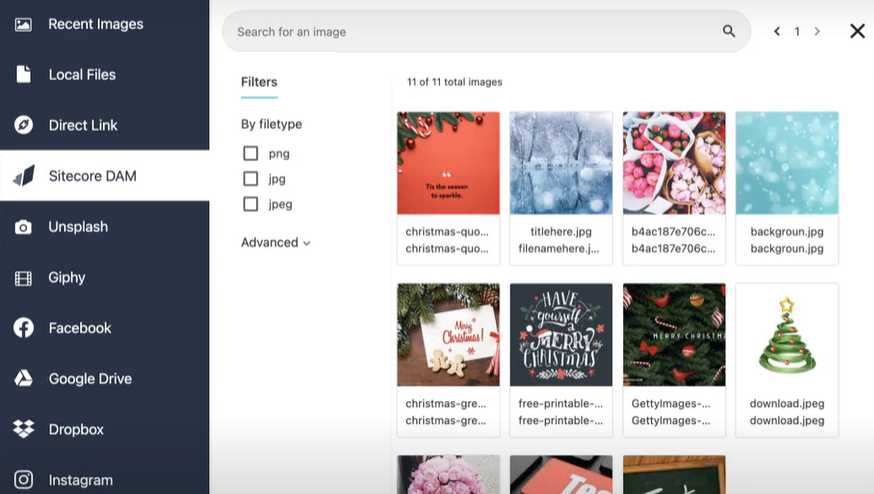 Improved user experience - We've significantly enhanced performance in the editor so you won't experience a delay when editing large campaigns.
API documentation
For an improved user experience, we have moved the API documentation from Apiary to a new site. The site uses a modern API tri-pane layout that lets users see simultaneously the topic outline in the left pane, the API content in the middle and the code samples in the right pane. We also use a single page structure so that users can easily navigate to and find the specific topic or endpoint they require on the same page.
The API content is divided into two distinct sections. The Getting Started section includes an overview of the API, standard API topics for onboarding API users, and a walkthrough for creating API requests. The API reference section includes a description of each endpoint and method to use, request and response parameters, and code samples in different programming languages such as, cURL, Java, Go, and Python.

Wheel of fortune (WOF)

You can now add a Wheel of fortune (WOF) to a form on your landing page or subscription form. By adding a WOF, your audience gets to spin a wheel in a form and win discounts or any offer you have set in exchange for subscribing to your email list.

Promotional pop-up

In addition to the different subscription forms you can create in Moosend , you can now create another type of form called promotional pop up. This type of form is used mainly to promote a special message, like a new product offer, a sale, or an event that you don't want your visitors to miss. To help you get started with the design, you can choose from the available templates.

Save custom items for reuse

The editor now allows you to save custom items in your newsletters and landing pages. Previously, you could only save custom layouts for reuse. Now, you can save any item you've created from scratch or customized, for example, a button or a timer, or any other reusable items.Save a custom item for reuse in the landing page editor

Code mode in landing page and subscription form editors

The code mode has been added to the landing page and subscription form editors. Previously, you could only use code mode in the campaign editor for newsletters. This mode lets you get a read-only view of the HTML code of your landing pages and subscription forms, download the JSON files of your Moosend templates, or upload JSON files of templates from another source.

Additional editor enhancements

The editor has added more options for designing your newsletters, landing pages, and subscription forms. You can now adjust the width of your newsletter into preset sizes, select a newsletter layout's background image position, add shadow to items, set default fonts, and switch the default article image position.
Editor redesign

To improve usability, several improvements have been made to the design of the campaign editor, landing page editor, and subscription form editor. You can see a top menu where you can access different modes and options. In the left pane of the editor, you can access layouts, items, and settings and in the right pane, you can see the layout- or item-specific settings. Additional enhancements have also been added to allow users to zoom in and out, resize the editing area, and access help articles from within the editors.

New comments mode

You can now add comments to an item or a container when you design your campaigns, landing pages, or subscription forms. Using comments mode, you can collaborate with team members by adding and replying to comments and marking them as resolved or unresolved. You are also notified as a team member when another member adds a comment to a design you're working on.

Redo option

You can now restore any actions that were undone in your newsletter, landing page, or subscription form design. (Previously, you were able to undo any action but you had to redo everything manually if you wanted to go back to the previous actions).

The redo button is placed after the undo button in the top bar.

Code mode enhancement

When you are working on your campaigns, you can now use code mode to get an actual read-only view of the HTML code of your design. This enables you to check the code of your current newsletter template before copying the HTML code and sharing it with others.